Our plan is to build a rectory that will house and accommodate a needed additional priest, as well as visiting priest, seminarians, and possibly retired priests. When our church was built, a rectory was not included in the plans because a house had been offered for this purpose. This house has served our pastors well through the years, however, it does not meet the Diocesan requirements for multiple priests. For adequate current and future pastoral care needs, we must build a facility to house both our pastor and a parochial vicar, the vital assistant that our parish needs.
Additionally, our plan will address our share for the Trinity High School building campaign, our need for a new boiler, and fund the remaining balance of our landscaping project.
Plan to Build a New Rectory That Will House Multiple Priests
Our plan is to build a three suite and four guestroom rectory that will meet all of the Diocesan requirements and allow us to receive the many benefits of having additional priests serve our parish. We will have accommodations for our pastor, a parochial vicar, a retired priest, and four guestrooms.  One of these suites will be fully ADA accessible. Having an appropriate rectory:
Will allow for the possibility of having a parochial vicar to be assigned to Queen of Peace to assist the pastor.
Will allow us to provide a place for a retired priest to live, while still providing priestly ministries to our parish and area parishes.
Will allow for visiting clergy.
Will provide accommodations and opportunity for seminarians to help serve and receive some of their training here.
And the additional priests it can accommodate will allow our pastors to adequately serve and grow our ministries and programs, teach, sanctify, and govern the faithful as is needed in a church the size of Queen of Peace.
Plan to Raise the Funds Required to Support the New Trinity High School
Our original church home was the Trinity High School which was destroyed by a fire in 2014. To pay for the construction of the new Trinity High School, and as one of the four parishes of the Dickinson Catholic Schools, we are asked to respond to the need to help support that effort.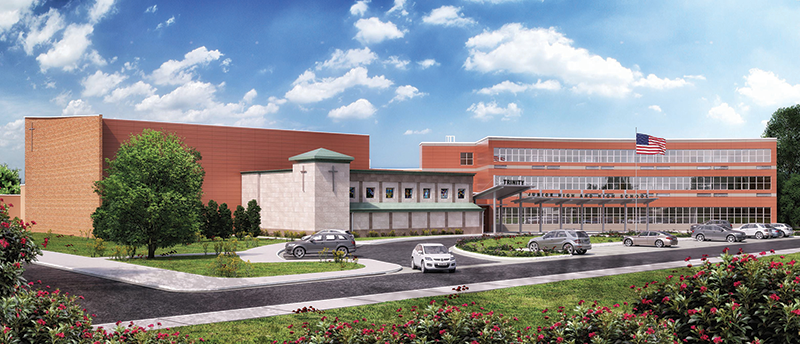 Plan to Replace the Boiler
We plan to purchase and install a new and efficient boiler, putting an end to the cold we endure because of the unreliable heating.
Plan To Complete Current Landscaping Project without Any Debt
The remaining funds needed to pay for the landscape project is $16,350.  We plan to finish the project this spring and fully fund the remaining balance.